Automatic shutter release as the medium to tell about herself. The Polaroid camera as a field to discover trough continual research. Let's find out about Carmen Palermo's work: she is a young photographer and one of the founders of "instant" artists' network Polaroiders.
AC: When did you find out about your love for photography?
CP: My love for photography dates back to when I was in primary school and used my camera during school trips, but later became a true love when I bought my first digital camera and I could travel to Santiago de Compostela in Spain.
AC: Why do you always choose to be the subject of your photos?
CP: I came to the necessity to take pictures of myself in time or maybe, I should say, the necessity itself evolved. My first self-portraits date back to when I was in high school: When I was 17, I felt marginalized and never appeared in those classic pictures with mates and friends and then I just wanted to be photographed as well: I was the only one who could do it because this way I did not get embarrassed.

For many years, it has been only about this: it was a way to keep the memory of myself. Later in 2006 – in a period in which I felt such a pain that I could not overcome – one day I started taking picture of myself, shooting a picture after the other and stopping only when I actually felt "released" from the mess I sensed in my stomach. Starting from that time, I realized that taking pictures of myself helped me exorcise in a way my discomforts and tell more about myself, something which I was never able to do with words but which I always needed to do.
AC: Do you feel inspired by any author?
CP: My approach to photography has always been instinctive and only during these last years, I finally discovered and appreciated the history of photography. I don't know if I can actually say to be inspired by any specific author; however, there are certainly some photographers that struck me deep inside and who I love for something which I would like to be able to bring in my approach to photography, more than in the photographs themselves.
About Franesca Woodman I feel the "pain" and what I like about her the most is how she is able "to do research": I am fascinated by the way she investigates the space and connects it to her deepest Self by employing her body and also I am fascinated by how taking pictures of herself becomes a true experience. In one of her retrospectives of some years ago in Siena there was a video in a loop shot by one of Woodman's friends while she was taking picture of herself: it is a video which shows how she used to prepare everything in monastic silence and all of her movements are, even before the snapshot, art.
About Jan Saudek I love her search for beauty by expropriating the real which becomes almost grotesque. About Weston I love the sensuality of forms, about Roversi sensitivity and elegance, about Newton perfectionism, about Man Ray all of his experimentation.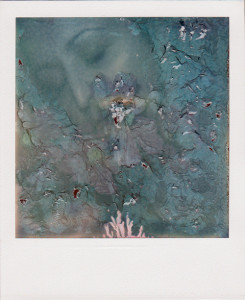 AC: Why did you choose Polaroid cameras? What are the advantages and disadvantages of this medium?
CP: The Polaroid camera has been for years an object of desire for me: it was the camera of all the pictures during my childhood. Later it stayed unused and locked in the closet. For years, I have been thinking that eventually I might have brought it back to life. Hence, when I finally started using it more often with such curiosity, I realized that it was going to be active part of my experiences. The Polaroid camera holds inside so many characters and maybe many contradictions.
The Polaroid camera is a medium born to be "easy to use" ("point and shoot" commercials used to say): aside from more professional models, Polaroid cameras all have a fixed diaphragm and a sensor that, according to light, decides shooting time-lapses. "To change" the behavior of the camera with some tricks becomes a challenge and active part of the pre-production stage, which I love to experiment with. This pre-production stage implies also overcoming difficulties that arise while shooting self-portraits with these cameras. They sometimes don't have delayed snapshot or, if they have it, it is quite severe (usually you have 10 seconds to position yourself), sometimes they don't have the tripod connection and others misfire (they are all quite old cameras) exactly when you think you got the perfect photo (although we clearly know that it does not really exist).
Shooting with a Polaroid is almost cruel and close to what life really is: considering the cost of films, you have few occasions and very little margin of error. When you decide to move an image in your head on film, the photograph you get stands as the "unique possible moment" which, in spite of all the imperfections, succeeds sometimes in being "the perfect moment" for me and which I decide to show also to others. Finally, there is the frame: the film strongly characterizes the final image with tones and output; therefore, prior choices are needed to optimize results. Film calls for concentration to develop awareness of what you are going to do. Another very important element for me is that the film has its own size and consistency which you can touch and feel immediately (without "filters" due to developing times in the dark room for traditional films, the transfer process on pc or light room for digital frames). Moreover, for its chemical and physical properties, you can work on it "manually" and "with your hands" and this gives me the possibility to dialogue with the pictured myself like in a very personal auto-analysis.
AC: Talking about your past works, what is the one you were the most excited about and which one do you identify the most with?
CP: It is hard to answer this question because every one of my works is strongly tied to an important moment for me; however, I can tell you about those works which mean to me the important cornerstones of my career. Among these, I would like to mention "Musae", a project carried on with Alan Marcheselli and which not only started our collaborations but also constituted the moment which taught me to think also in a planning perspective. In addition, "Io, tu e le rose" (You, me and the roses), which is the moment in which I tested the urgency of self-portraying to exorcise a negative moment and finally "L'anima è blu" (Soul is blue), a series of long exposures with pinhole camera.
AC: You mentioned your collaboration with Alan Marcheseli. Tell us about Polaroiders, the web community you founded with him.
CP: Polaroiders was born in 2010 thanks to Alan Marcheselli's idea which I completely supported from the very beginning. We wanted to give a "virtual" home to passionate photographers to immediately develop, a place where to meet, confront and share a mutual passion, trying to anyway create concrete events so as all this could live also in the "real" world and actually promote many emergent Italians' work which is underestimated in the traditional art system. Today, Polaroiders.it records almost 2000 enrollments, more than 25.000 photographs, about 50 active events and exhibitions both in Italy and abroad and two Snapshots Festivals.
AC: What projects are you working on now?
CP: I will soon start experimenting long exposure with pinhole cameras and Impossible 8×10 film (the new company which in 2008, after Polaroid bankrupted, bought the last plant in Europe starting again the production of instant developing films). However, I have not yet defined the project so well in my mind and that urgent need which leads me to shoot has not yet come.
AC: What is still "almost" in you?
CP: I feel "almost" in many things, but mainly "almost" is the condition I feel when I need to shoot, it is that undefined perception which I try to define, something I would like to say but stays wordless until I get in front of the camera.
Related Posts
« Lui chi è?? Francesco Arena Aakash Nihalani – Vantage @ Wunderkammern »